At Mum & You, we know that the first 1000 days of your child's life are the most important in terms of development.
Interacting and reading to your little ones is so important for their language development, and it is why we have our playful tribe of Nappychat characters on our Eco Nappies, Eco Nappy Pants, and packaging. These colorful characters are a great tool to inspire you to chat, sing and read to your babies from day 1.
Having previously worked with I CAN, the children's communications charity aiming to equip parents with the tools and resources to help their child develop the right speech and language skills as they grow, we know that parents are a child's first teacher and that it's never too early (even pre-birth!) to start bonding with your child and developing their language skills. I CAN mirror this work, and both Mum & You and I CAN feel so strongly about the importance in communication in under 5s.
We have also spoken to parenting expert and TV psychologist Emma Kenny, who commented: "From story-time, to building or drawing your favourite characters, there are lots of ways parents can help develop the imagination and communication skills of their under 5s. And even when time is a challenge, you can chat, play and read with your child as part of your daily routine including using bath time or trips to the shops to tell make believe stories. Not everybody realises that playing and chatting is learning, and for you it can also be a fun way to bring you closer to your child."
Read more about our Nappychat feature with our talented mum and illustrator here.
Now that you know more about the benefits of reading with your child, read on to discover a fabulous selection of books that discuss a variety of topics with diverse leads. We want to equip you with the best resources to encourage your little one to feel represented, confident and encouraged, and with National Read a Book day on September 6th 2022, now is a perfect time to add some more books to your little one's reading list!
And you never know, you may learn a thing or two too…
Is there a particular book that has been a huge hit with your child? Or any other books with similar themes that we can add to this list? Let us know in the comments below!
Llama Llama Red Pyjama by Anna Dewdny
"A rhyming read-aloud that finds young Llama Llama feeling nervous about falling asleep by himself – and Mama Llama coming to the rescue."
Buy now: £8.99 Blackwells
Rapping Princesses by Hannah Lee
"A completely original rhyming picture book that celebrates daring to be different, featuring Shiloh, the rapping princess"
Buy now: £6.99 Waterstones
Dragons Love Tacos by Adam Rubin & Daniel Salmieri
"This silly book about dragons that love tacos (and parties!), is a huge hit with our little ones. The illustrations are entertaining and the story includes subtle jokes bound to make both you and little one giggle!"
Look Up! by Nathan Bryon
"Rocket's going to be the greatest astronaut, star-catcher, space-traveler that has ever lived! But… First, she needs to convince her big brother Jamal to stop looking down at his phone and start LOOKING UP at the stars. Bursting with energy and passion about space and the natural world, this heart-warming picture book will reignite your desire to turn off those screens and switch on to the outside world."
Buy now: £5.99 Waterstones
The Very Hungry Caterpillar by Eric Carle
"The Very Hungry Caterpillar, Eric Carle's world-famous simple, hopeful story has become the most read children's book in Britain."

East the Happy Egg Book by Lizzie Walkley
"Happy Egg Book is the tale of a golden, yolk-filled egg that's happiest when walking round, enjoying the flora and fauna in its own little world."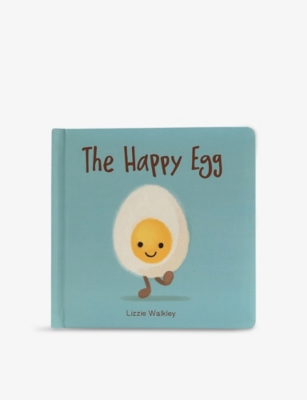 Buy now: £9.50 Selfridges
Handa's Surprise by Eileen Browne
"Handa puts seven delicious fruits in a basket to take to her friend, Akeyo. Which fruit will Akeyo like best, she wonders – the yellow banana, the sweet guava, the juicy orange, the ripe mango, the spiky pineapple, the creamy avocado, or the tangy passion fruit? As Handa makes the long walk to the next village, carrying the basket on her head, a monkey, ostrich, zebra, elephant, giraffe, antelope, and parrot steal her fruits, one by one.
But little do they know that Handa has an even bigger surprise in store!"
My Pet Star by Corrinne Averiss
"A magical story about the importance of kindness and friendship. When a little girl finds a lost star, she takes it home and cares for it, just like a beloved pet. She reads it stories, makes it special snacks, and tucks it into bed at night. The more she cares for the star, the brighter it glows. Until, one day, it's time to let go.
A heartfelt story about caring for others and learning to let go, from BAFTA award-winning writer and CILIP Greenaway-nominated author Corrinne Averiss. Perfect for sharing at bedtime."
We hope you find the perfect read for your little on this National Read a Book Day! Do you have any books that have been a hit so far? Share them with us in the comments below – we love to hear from you!
Want to keep up to date with our future blogs like this one? Subscribe to our mailing list for more tips and special offers you surely won't want to miss!