It's Maternal Mental Health Awareness Week this week.
Maternal Mental Health Awareness Week is a week-long campaign dedicated to talking about mental health problems during and after pregnancy.
It's all about raising public and professional awareness of perinatal mental health problems, advocating for women affected by it, changing attitudes and helping families access the information, care and support they need to recover.
Read more on the Maternal Mental Health Alliance website here.
We know firsthand that being a mum is tough. There are difficult elements of motherhood that no one ever tells you about and experiences you could've never imagined. If you find yourself feeling overwhelmed, anxious, or anything else in between, there is help if you need it.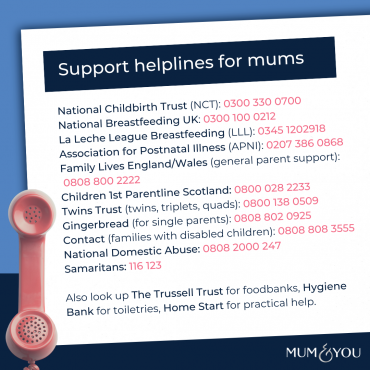 Do you know a mum who could do with a pick-me-up this week? We've put together a list of subscription box ideas that are sure to put a smile on mums face after a long, exhausting week. The perfect "I'm thinking of you" gesture. And if gifts aren't your thing, lending an ear can work wonders too.
Cheese Deli Subscription Box from The Deli Society
Food subscription boxes are a favourite amongst the Mum & You mumployees, including brownie boxes, breakfast hampers, and of course, cheese and wine. Each month, the lucky recipient of this Cheese Deli subscription box from The Deli Society receives a bottle of off-the-beaten-track wine, perfectly paired with farmhouse cheese and craft charcuterie.
A perfect gift option for a friend or for yourself (go on, we won't tell).
A fresh bouquet of seasonal flowers can do wonders for your mood. They have the power to liven up any room, creating an inviting environment sure to brighten up your day. Freddies Flowers delivers straight to your door as frequently as you need (free delivery – woop!), with your first two boxes half price! You can pause or cancel anytime to suit your needs, which makes this a perfect short-term subscription for the mum who needs a pick-me-up.
We also love that Freddie's packaging is completely biodegradable, their deliveries are carbon neutral and the flowers are grown to order to avoid waste. Gorgeous fresh flowers with zero hassle!
Nappy & Baby Wipes Subscription from Mum & You
A great option for time-strapped parents. Premium nappies and wipesare delivered straight to your door before you can say "poonami". A truly sustainable option for the eco-conscious mum in your life, our subscription feature allows you to easily change the frequency of delivery, pause, and change nappy sizing when necessary. Select your preferred size, frequency, a free gift and you're all set.
Never be caught short again!
Choose from 12 different genres to suit your recipient's interest with this book subscription box by Teatime Bookshop. They will not only receive a book (or 2 or 4 depending on if they're an avid reader!) but they will also have a choice to recieve either ethically sourced tea or coffee (or hot chocolate), enough to accompany your reads for the month. TeaTime Bookshop subscription also includes some tasty biscuits with every box! The ultimate treat for a mum who needs some wind-down time.
TeaTime Bookshop believes that small acts change the world which is why with every book subscription they contribute towards planting more trees in the UK and abroad. It's all about the trees!
We believe in that small acts change the world which is why every book subscription we contribute towards planting more trees in the UK and abroad. It's all about the trees!
Soon-to-be Mum Subscription Box by Dear Bump
A fantastic option for mums-to-be. Dear Bump offers a monthly pregnancy subscription box, delivered straight through your letterbox. Each delivery is tailored to the recipient's trimester and stage, making it a super useful gift that keeps on giving!
Enjoy a variety of gifts from nourishing skincare and tasty treats to uplifting reads. The boxes are full of goodies that will make someone's day. Dearbump has designed each subscription box with every stage of pregnancy in mind. Every month, recipients will receive top-quality luxury products that will pamper you and help prep you for the next stage of your beautiful journey.
Not only that, Dearbump also offers various gift boxes such as new mum, self-care, morning sickness, and a dear dad gift box too!
Sleep & Meditation App Subscription by Calm
Give the gift of sleep (or at least, try) with Calm's meditation app. Choose your goal, whether that be improving sleep, quality, reducing stress and anxiety, improving focus, self-improvement, or a goal of your choice and you're set. Choose from gifting a year's subscription or a lifetime subscription after which you can choose to send over an e-voucher or printable certificate for your recipient.
Beauty Box Subscription from LookFantastic
Who doesn't love sample-sized goodies? Treat the mum you love to a perfect pick-me-up treat, delivered monthly with 6 new goodies each time! Choose from a variety of subscription options or pay upfront (£13 per box for 12 months!). The box is often valued at over £100 and may include full-sized products.
A perfect "thinking of you" gift that is sure to put a smile on mum's face.
We hope this list has inspired you to treat a mum in your life this Maternal Mental Health Week. But as lovely as it is receiving a surprise gift at your doorstep, lending an ear or picking up the phone for a quick "thinking of you" chat can do wonders too. Give a mum in your life a call today and see how they're getting on.
Do you have any practical (or not) subscription boxes that have been a hit with you or a recipient? Share your most loved subscription boxes below – we love to hear from you!
Want to keep up to date with our future blogs like this one? Subscribe to our mailing list for more tips and special offers you surely won't want to miss!