We're sharing our spooktacular ideas, as tested on our own little monsters, that you can easily do with your young ones at home. Happy Halloween!
Crafts
Witches hat
Cut out a large triangle from card.
Take a strip of card about 5cm wide, wrap it around their head, mark where it overlaps and cut. Double check its the right size to form a circle that will fit onto their head.
Let your child decorate both parts. Glue or staple the strip to make a circle and then attach it to the triangle to make your hat.
Spooky cards for missed family and lonely neighbours
This is a great one for baby's first Halloween.
A hand or foot print with white paint makes spooky ghosts
Two hand prints in black paint and goggly eyes for scary spiders
Black hand print for a cats body. Paint in the face and decorate with bright pipe cleaners or sequins
Trick or treat, smelly feet. Green foot print for monsters
Games
Pin the tail on the black cat
Draw a simple cat outline on some white or black card, minus the tail. Draw a long, chunky, squiggly tail on another piece of card. If your using white card, let little ones colour the cat in. Cut out the tail and stick the cat to the wall.  Pop some blutack to the back of the tail or loop a small piece of sellotape so its sticky on both sides. Blindfold your little one with a scarf or get them to close their eyes. They then have to try and pin the tail on the black cat!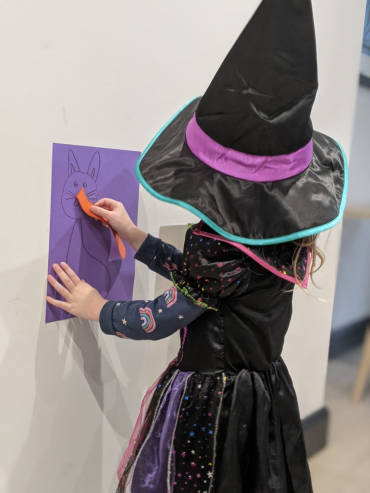 Trick or treat hunt
Write some silly tricks on a piece of paper or card. Try…
Hop on one leg 8 times
Get down on all fours and pretend to walk and purr like a cat
Put your arms out in front and pretend to walk like a mummy or zombie
Sing itsy bitsy spider
Fly around the room like a witch on a broomstick
Find 3 items that are orange
Find 3 items that are black
Facetime a love one and shout boo
Hide the tricks with a small treat around the house and send them on a hunt. When they find them, they need to do the trick before they can have their treat!
Spooky food
Edible spiders
Melt 100g of chocolate and mix with 100g of rice crispies. You could also add some raisins
Spoon into 12 cake cases
Snap chocolate matchsticks into 4 pieces and add 8 small pieces to each cake to make spider legs
Top with two smarties for the eyes
Leave to set in the fridge and then gobble up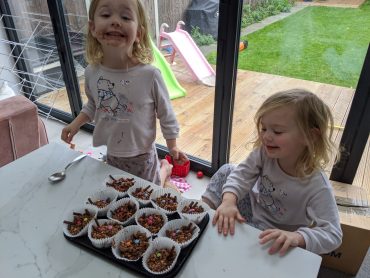 Mini pumpkins
Satsumas decorated with a black sharpie make perfect mini pumpkins that are a healthy treat.
3 ways with apples
Pumpkin stamp: Cut an apple in half and you have a perfect pumpkin shape! Stamp into orange paint and add goggly eyes and black paint for a mouth
Chocolate covered apples: A full one can be too much for small children so instead cut a chunky slice of apple, push a lolly pop stick through the middle and help little one to dip into chocolate. Add sprinkles for extra fun
Apple bobbing: Wasn't this the best game when we were little? Pop apples into a bowl of water and with hands behind their back, bend down and try and get an apple using just their mouth!
Share your Halloween at home fun below!