When it comes to weaning your little one, you might prefer the traditional method of spoon feeding with purees. Or you might want to start straight away offering finger foods and allowing your baby to explore themselves. You might even change which method you do once your baby dictates how they want to be fed! Either way, you'll soon be looking for some inspiration for meal times, and Natalie Peall at Baby Led Weaning Cookbook is full of ideas that you can all enjoy eating as a family.
Just remember to follow advice from your Health Visitor and NHS guidelines and wait until your baby is around 6 months old before you start weaning.
What is Baby Led Weaning?
Baby-led weaning (BLW) is an approach to introducing solid foods to infants that allows them to explore and self-feed from the beginning, rather than relying on spoon-feeding purees. It involves offering age-appropriate solid foods in a safe and appropriate form, allowing the baby to choose what to eat and how much to consume.
The key principle of baby-led weaning is that babies are developmentally ready to start eating solid foods when they can sit up on their own, have good head control, and can bring food to their mouths. Instead of starting with purees and gradually progressing to solid foods, BLW encourages offering soft, finger-sized pieces of food that the baby can pick up and feed themselves.
With baby-led weaning, the baby is an active participant in the feeding process. They can explore the texture, taste, and smell of various foods at their own pace, learning to chew and swallow as they progress. The emphasis is on allowing the baby to self-regulate their food intake, developing their motor skills, and fostering a positive relationship with food.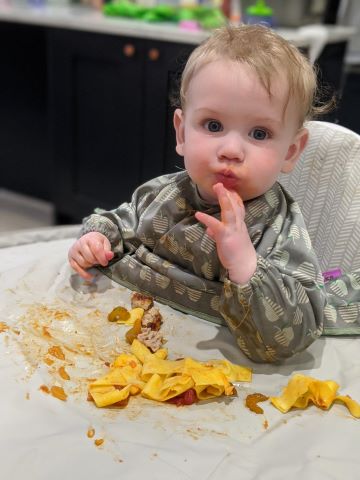 It's important to note that with all weaning methods, food does not replace breastfeeding or formula feeding, as breast milk or formula continues to be the primary source of nutrition for infants until they are around one year old. Solid foods are introduced gradually alongside milk feeds to complement their nutritional needs.
And as with any feeding method, safety is important when weaning. Parents should ensure that foods are prepared appropriately and closely supervise their baby during mealtime.
So if you're ready for yummy inspo, check out these two recipes from the lovely Natalie Peall at Baby Led Weaning Cookbook.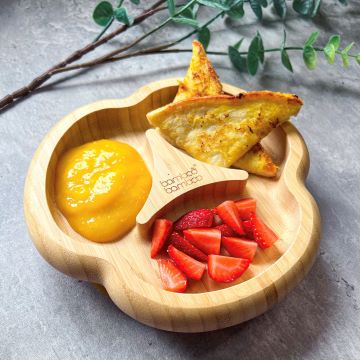 Mango French Toast
Prep Time: 5 mins
Cook Time: 12 mins
Yields: 3
Ingredients
2 x 70g mango puree pouches
3 slices of white bread
1 knob of unsalted butter
Method
Squeeze the puree into a large shallow-rimmed bowl
Place each slice of bread into your mixture and allow it to absorb the liquid for approximately one minute on each side
In a large frying pan, heat the butter over a medium heat and then fry the slices of bread for 1-2 minutes on each side or until they turn golden brown
Serve with a drizzle of maple syrup, if desired, once cooled.
Strawberry Pinwheels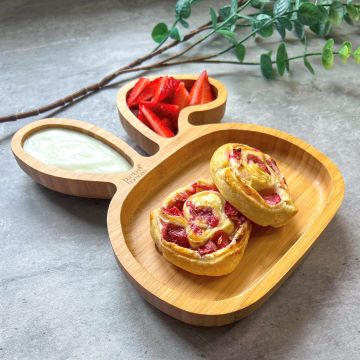 Prep Time: 15 mins
Cook Time: 25 mins
Yields: 12
Ingredients
1 ready-rolled puff pastry sheet
4 tablespoons of full-fat cream cheese
227g strawberries, hulled and finely diced
1 medium egg, whisked
Method
Preheat the oven to 200°C and grease or line a large baking tray with baking paper
Unroll the puff pastry sheet and spread it evenly with the cream cheese
Sprinkle the diced strawberries evenly over the cream cheese
Re-roll the pastry sheet horizontally
Use a sharp knife to cut your pinwheels every 2.5cm (if this makes too many, you can freeze some before cooking)
Place your pinwheels onto the baking tray and brush with the whisked egg
Bake your pinwheels in the oven for 20-25 minutes or until golden brown
Serve once cooled.
For more inspo, tips, recipes and advice check out Natalie's instagram account @baby_led_weaning_cookbook (she also talks openly about the challenges of being a mum) and the app is a must have for meal planning! Go to http://babyledweaningcookbook.com for more info.
And don't forget our plastic free biodegradable baby wipes for easy but eco clean ups! Designed by mums, they contain 99.4% water and are made from a plant based material that's gentle on baby's skin. Just don't forget to wipe behind their ears and neck (yup, weaning can get a bit messy!)