If you're about to start your weaning journey or you're already hands deep in the glorious mess (jokes, kinda) then read on for our easy tips to help you reduce your environmental impact. And remember, even if you only follow one you will be making a small difference…
1. Choose organic, locally sourced and in season foods: Opt for organic fruits, vegetables, and grains whenever possible. Locally sourced foods reduce the carbon footprint associated with transportation.
2. Get to know your freezer: batch cooking not only saves you time, it can reduce energy usage as your cooking a bigger amount at once. Your freezer is also great for saving foods that would overwise go out of date and end up thrown away. @CanIFreezeIt is a fantastic Instagram account full of tips of what food can be frozen (so much more than your think!), how do it and handy recipes for using up frozen food.
TIP: Did you know you can freeze baby puree? They make fab baby ice lollies when frozen in an ice lolly mould, or freeze fruit purees in an ice cubes tray and add to hot porridge and allow to cool.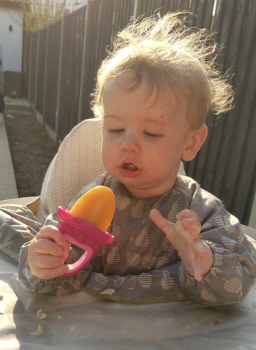 3. Invest in reusable feeding utensils and dishes: Look for ones made from eco-friendly materials like bamboo or stainless steel. They are durable, easy to clean, and reduce waste. And because they last well you could even pick them up preloved from Facebook market place or your nearest Nearly New Sale.
4. Buy a pre loved highchair: You might be tempted to buy a snazzy highchair with all the bells and whistles. But trust us mums, when your baby has spilled weetabix, tomato pasta sauce and broccoli all over it, all you will want is one that is easy to clean! So look for pre-loved highchairs (Ikea's basic highchair is our fave all rounder for ease of clean) or eco friendly pre-loved wooden highchairs.
5. Avoid single-use packaging: Minimise your reliance on single-use pouches, jars, and containers by preparing and storing homemade baby food in reusable containers or jars. When purchasing commercial baby food, opt for brands that use recyclable or compostable packaging.
6. Reduce food waste: Be mindful of portion sizes and start with small servings. Gradually increase the portion sizes as your baby's appetite grows. This helps to minimize food waste and helps your baby feel less overwhelmed when they're not faced with a huge plate. Store leftovers to use for another mealtime.
7. Compost food scraps: If you have food scraps, consider composting them instead of throwing them away. Composting reduces landfill waste and creates nutrient-rich soil for your garden.
8. Consider how you clean up: Use cotton cloths or plastic free baby wipes for cleaning baby's hands and faces (and behind ears, neck, hair and wherever else they managed to get messy!). Ditch the antibac cleaning sprays with plastic bottle and instead use hot water with an eco friendly dish soap for the highchair.
9. Shop sustainably: When buying baby food or ingredients, choose brands that prioritize sustainability, use organic ingredients, and have transparent sourcing practices. Look for certifications such as Soil Association Organic, Fair Trade, or Rainforest Alliance.
10. Donate unused or unopened food: If you have excess baby food that your child won't consume, consider donating it to local food banks or charitable organizations. This helps reduce waste while supporting those in need.
Remember, every small step counts in making a positive impact on the environment. By incorporating these eco-friendly practices into your baby's weaning process, you're helping to create a healthier and more sustainable future.
Want to keep up to date with our future blogs like this one? Subscribe to our mailing list for more tips and special offers you surely won't want to miss!