Going away with our little ones is no easy task. Regardless of whether you've planned a sunny staycation or a holiday abroad, there are many things to consider when it comes to packing for baby.
As seasoned mamas, we now know a thing or two about efficient packing – especially when it comes to packing baby essentials. Read on for our four top tips on how to tackle nappy packing!
1. Use a carry-on suitcase
Make use of your luggage allowance by packing a carry-on with baby essentials including eco nappies, biodegradable wipes, and toiletries up to 100ml. For the journey, fill a small pouch or ziplock bag for easy access with a few nappies, a pack of wipes and a spare change of clothes and keep in your hand luggage or backpack. This allows you to keep necessities on-hand and accessible when you need them, without having to open up your carry-on suitcase every time you need a nappy! If you are taking a car seat or pram in a cover you can also use this to store packs of nappies!
2. Wash and reuse disposable swim nappies
If you're off for a pool or seaside holiday, swim nappies are a necessity. You can either choose to bring reusable swim nappies or disposable swim nappies which you can wash and reuse if they are not soiled. Rinse, dry on the balcony, and reuse! Before you leave, dispose of them. Less to take home with you!
3. Spread the weight
At first impression, it may seem more space-savvy to keep nappies in their original packaging and pack everything else around them. One tip we find to be useful is actually taking nappies out of their original packaging and using a pa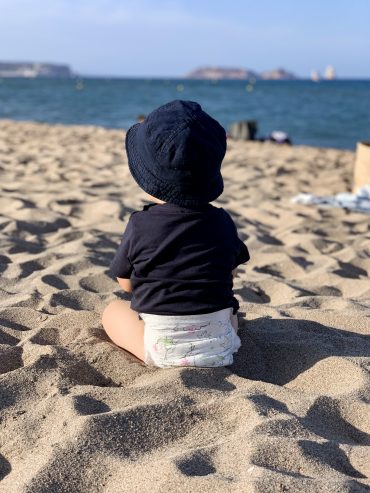 cking cube or the zipped compartment of your suitcase. Nappies will lay flat this way, and you can stack or spread them for a more effective way of space saving.
4. Use a vacuum bag
If you are going away for an extended period of time, one of our favourite hacks is using vacuum bags to reduce how much space nappies take. Arrange them on top of each other and use your vacuum to expel the air. You can also achieve a similar result by arranging individual nappies in a large ziplock bag and squeezing the air out before zipping shut.
Utilise your space, spread the weight, and remember, you'll (probably) be lighter on the way home!
Do you have any space-saving hacks that you've found useful when packing for trips? Share them with us in the comments below – we love to hear from you!
Want to keep up to date with our future blogs like this one? Subscribe to our mailing list for more tips and special offers you surely won't want to miss!
 Shop Mum & You Online here