Experiencing sore, chapped lips and dry flaky skin is often a painful result of harsh weather during the winter months. It can affect the whole family, but it is especially frustrating when our little ones suffer. That's why we created our bestselling Face The Day Stick.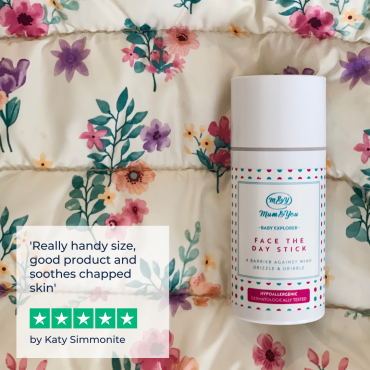 As mums who are no strangers to putting our children's needs before our own, we're happy to lather on some of that old chapstick we found in between the sofa cushions. However, when it comes to our children we always tend to search for something more child-friendly in terms of its ingredients, its credibility and how kind it is to delicate skin.
Here at Mum & You, we have developed a product with exactly this in mind. Creating gentle products with no unnecessary nasties is something we're passionate about and we only create products that we would find convenient and gentle enough to use on our own children. Our Face The Day Stick is compromised of 99% naturally derived ingredients that can help to soothe and restore dry skin, chapped lips during these chilly months.
The Face The Day Stick helped to reduce Ruben's sore and inflamed lips in just three days! Whilst Ruben spent his Christmas holidays playing sports outdoors, his lips were exposed to the elements and quickly became sore, red, and painful.
After using the Face The Day stick consecutively for three days, there was a dramatic reduction in the redness, and Ruben's lips were well on their way to a full recovery.
The magical combination of sunflower oil, coconut oil, beeswax, and shea butter helped to soothe and nourish Ruben's sore lips whilst also forming a barrier to protect from further damage.
The balm is safe to use on sensitive skin, and it is clinically proven to be suitable for eczema-prone skin. Its handy stick form makes it easy for children to apply themselves too!
But we don't expect you to just take our word for it. Our Face The Day Stick is loved and trusted by our customers, and they have rated it 5/5 stars for quality. It's racked up 177 fantastic reviews online – why don't you have a read for yourself!
How does this particular combination of ingredients help to soothe dry skin?
Sunflower oil | Rich in Vitamin A & E, sunflower oil acts as a natural moisturiser, helping to treat dry & sensitive skin.
Coconut oil | Helps to create a caring, hydrating layer when applied to the skin.
Beeswax | Heals and softens the skin, and has an antibacterial action, helping to prevent infection.
Shea butter | Ideal for softening and soothing the skin, shea butter also has anti-inflammatory and healing properties.
Has our Face The Day Stick transformed your winter routine? Let us know your thoughts in the comments below, we love to hear from you!
Want to keep up to date with our future blogs like this one? Subscribe to our mailing list for more tips and special offers you surely won't want to miss!