We often think of winter causing havoc with our skin but the summer months can be just as troublesome. Suncream, extra baths, swimming, air con and sun can all lead to skin irritation. Here's 5 reasons why using a face balm on your baby or child during the summer can provide several benefits for their skin.
Moisturisation: During the summer months, the heat and sun exposure can cause the skin to become dry and dehydrated. A face balm can help moisturise and nourish your child's delicate facial skin, keeping it soft and supple.
Soothing and calming: If your child's skin is sensitive or prone to irritations, a gentle face balm can help soothe and calm any redness or inflammation. It can provide a protective barrier against external irritants, such as wind or pollution, while supporting the skin's natural healing process.
Preventing chapped skin: Exposure to sun and wind, air conditioning on aeroplanes, or water (think chlorine in swimming pools, salty sea water and all those extra baths to wash away suncream, garden play and sticky ice lollies) can sometimes lead to chapped, dry or peeling skin. Applying a face balm with nourishing ingredients can help prevent chapped skin and maintain a healthy skin barrier, especially in areas where the skin is thinner and more sensitive, like the cheeks or lips. They're also great to use as an after-sun in the evenings after sun exposure for soothing the skin (just note that Mum & You Face The Day Stick does not contain SPF and is not a suncream)
Easy application: Face balms are often formulated with a rich, creamy texture that glides smoothly onto the skin. This can make it easier to apply and ensure that the product is evenly distributed, even on a wiggly or active child. Mum & You Face The Day stick is a chunky applicator, think of it like a big lip balm, so its super easy to apply and toddlers love to do it themselves
Teething and weaning: Ok so not just summer specific but as mums ourselves we know teething can go on for a while, long before teeth pop up, and all that extra dribble can leave skin feeling sore and red. Plus once they start weaning the extra saliva, messy food sitting on the skin and the extra clean ups can add to the irritation. A face balm is a quick way to sooth and protect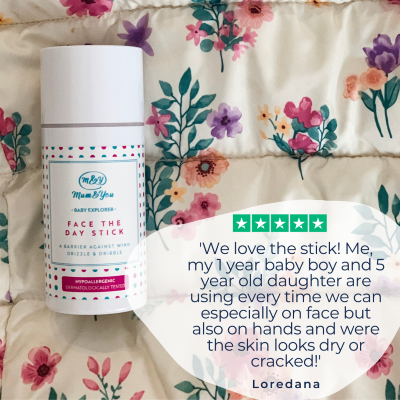 What should you look for in a face balm?
When choosing a face balm for your baby or child, opt for products specifically designed for their delicate skin. Natural, hypoallergenic formulas without harsh chemicals. Mum & You Face The Day stick is
Made from 99% natural ingredients with soothing sunflower and coconut oils, beeswax & shea butter
Dermatologically tested and hypoallergic
Clinically proven to be suitable for eczema prone and sensitive skin
Perfect for babies, toddlers, big kids and grown ups
Handy push up applicator, super easy to apply, small enough to fit in the changing bag for on-the-go
Get ready for summer and shop face balm's. You can save 10% when you buy two sticks. Great for siblings or one for home/ one for out and about!
Please note: Face the Stick Day does not contain SPF and will not protect skin from the sun's rays. Think of it more as a natural after sun to soothe the skin after sun, wind, and water exposure.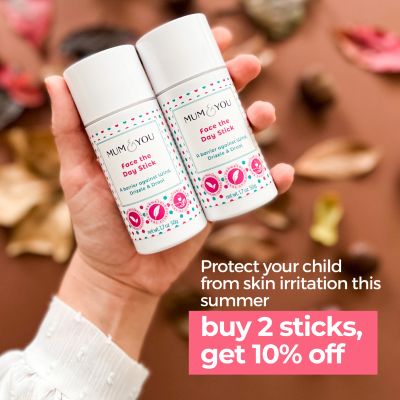 Want to keep up to date with our future blogs like this one? Subscribe to our mailing list for more tips and special offers you surely won't want to miss!