Tuesday 21st 2023 is pancake day, and we have found some amazing pancake ideas for your baby.
Did you know? Pancake day changes from year to year because it is always 47 days before Easter Sunday!
Pancakes are ideal for baby-led weaning as they are soft to eat and really easy for babies to pick up with their hands. They also make great finger food for older babies and toddlers too. Though they're traditionally eaten on pancake day, pancakes can also be served for breakfast as they are full of fibre, delicious, and really healthy. A fantastic breakfast or dessert treat for the whole family!
Ingredients
1 ripe banana
1 medium egg
25g oats
Method: mash the banana and add the egg, mix together. Then add in the oats and mix. You could even blitz with a hand blender to get the batter smooth. Add oil in to the pan. Use 1.5 tbsp of mixture to make 1 pancake. This mixture should make 5.
Top tip: When you start seeing bubbles in smaller pancakes, they are ready to flipped!
Ingredients
1 banana, peeled and sliced
2 eggs
40g porridge oats
30g desiccated coconut, plus extra to serve if you wish
½ tsp baking powder
½ tbsp coconut oil or butter
40g blueberries, large ones cut into quarters, smaller ones cut into halves.
Method
Blend together the banana, eggs, oats, desiccated coconut and baking powder until perfectly smooth.
Melt the coconut oil or butter in a non-stick frying pan over a medium heat. To cook the pancakes add tablespoonfuls of the batter to the pan and dot the top of each pancake with a few of the chopped blueberries. Cook for 1-2 minutes before flipping to cook the reverse side. Repeat until all the batter is used.
Leave the pancakes to cool a little after cooking to prevent the blueberries from burning your baby's mouth. Sprinkle with desiccated coconut to serve, if you like.
The pancakes keep for up to two days covered in the fridge.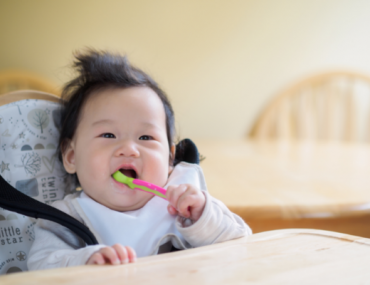 Ingredients
150g (1 cup) oat flour
2 teaspoons baking powder
125ml (1/2 cup) milk
125ml (1/2 cup) greek yogurt
1 egg
2 tablespoons melted butter
Rapeseed oil for frying
Passion fruit to serve
Yoghurt to serve
Method
Add oat flour and baking powder into a large bowl.
In a separate bowl, mix the milk, greek yogurt, egg and melted butter.
Make a well in the flour and slowly whisk in the liquid mixture until completely combined.
Heat a large frying pan over a medium heat. For each batch of pancakes, use about 1 teaspoon rapeseed oil.
Spoon 2–3 tablespoons of batter into the pan. Cook until you see bubbles forming (about 1–2 minutes). Flip over and cook the other side.
Serve pancakes with a dollop of greek yogurt and half of a passion fruit per person.
Do you have any recipes that have been a hit with your little one? Tell us in the comments below, we love to hear from you! And don't forget to tag us in your pictures over on Instagram, we would love to see your little ones enjoying their pancakes.
Want to keep up to date with our future blogs like this one? Subscribe to our mailing list for more tips and special offers you surely won't want to miss!