Whether you are expecting and wondering what you'll need, or your baby is here and looking for tips,  you will need to keep your nappy bag packed and ready to go. 
Did you know that young babies need their nappy changing up to 10 to 12 times a day and older babies around six to eight times a day?   
It is inevitable that when you are out and about that your baby will need changing, it might even be several times (poop explosion pending, let's not even talk about that).  
We have pulled together what we think are the essentials to pop in to your nappy bag so you will be covered: 
A fold up changing mat 

 

3 – 4

nappychat eco-nappies  
Pack of 100% biodegradable* Mum & You baby wipes. Keep them in an easy to reach pocket for quick grabs

Barrier cream

 

Eco friendly nappy sacks 

 

Change of clothes: Babygrow and vest is easier for babies

. Pop them in a zip sandwich bag to make them easier to find and keep 

clean. 

A

n

 extra plastic bag or nappy sack to put wet and dirty clothes is handy too

 

A spare top for mamma if room (from leaky boobs to sicky babies, 

its

 hard to stay clean with little ones around!)

 

Clean breast pads 

if breastfeeding

 

M

ilk

 if bottle feeding

 

Muslin cloths

C

le

an dumm

ies if using

 

F

ood or snacks

 if you are 

weaning

 

 

Water bottles for you and toddlers

Small books and portable toys

 like a teething ring or rattle

 

 
Oh and don't forget your purse, keys and phone! 😊  
Top tip: Restock your bag the night before so you are not rushing when you have to go out. It's hard enough getting a baby ready let alone a bag as well! 
*Wipes are compostable according to European Standards EN13432 and are certified by TÜV Austria as OK compost Home.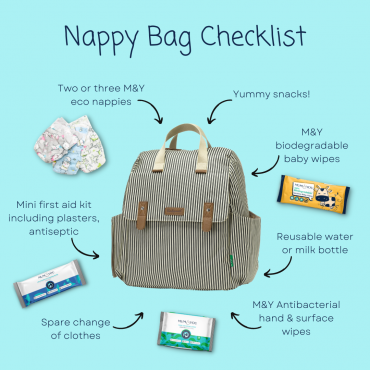 Want to keep up to date with our future blogs like this one? Subscribe to our mailing list for more tips and special offers you surely won't want to miss!
 Shop Mum & You Online here