Autumn has officially arrived, which means bidding adieu to long, warm summer evenings and welcoming cozy nights in.
Of course, more nights in means having to think of creative ways to keep the little ones occupied!
Halloween often coincides with half-term so there is a lot of pressure to keep them entertained during the lead-up to keep them from climbing the walls.
But fear not! We have assembled a spooktacular list of ideas to keep the little ones busy this half term, including games and recipes sure to keep them entertained!
Halloween Themed Scavenger Hunt
At Mum & you, there are few things that get our kids as excited as a scavenger hunt. It's a great way for kids to explore and exert some energy both indoors or outside. That's why we absolutely love this version by Sunny Day Family. Easily download this awesome Halloween scavenger hunt and celebrate at the end with a special Halloween or fall treat!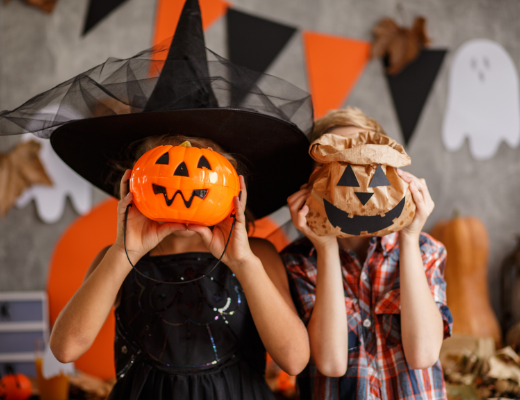 Create a Halloween Wreath
Do you have some leftover Halloween decorations such a plastic spiders or cobwebs? Why don't you put together a seasonal Halloween wreath! Grab some glue, orange pipe cleaners, and a plain wreath and let your little one get creative. It's a great way to repurpose decorations and a wreath is something you can bring out year after year. This is something you may enjoy getting involved in too! Be warned, our children love creating these wreaths and you may end up with one on every single door!
Pumpkin Patch Stomp Game
Have you ever tried the Pumpkin Patch Stomp? Our children can't wait to play it every Halloween. It's so simple! All you have to do is create your pumpkin patch with orange balloons and fill them with stickers, confetti, or small and fun themed items. You can leave a few balloons empty to encourage everyone to keep stomping and discovering.
Ghost Bananas & Tangerine Pumpkins
These spooky treats are a perfect dose of hands-on Halloween fun and provide a balanced diet after all the sweeties. Create these tasty treats as a fun afternoon snack or for your next Halloween party, they'll surely go down a treat and are minimal effort!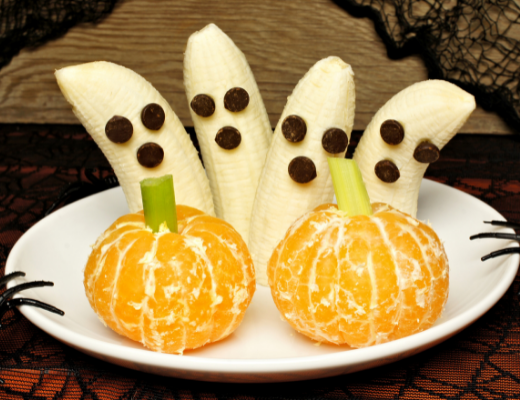 Create Spooky Artwork with Hands and Feet
Create your own ghoulish ghost or freakish Frankenstein using two craft supplies you may already have at home. Either submerge hands and feet into a tray of paint, or use a sponge or foam roller to apply. Let the kids get creative with their hand and footprints, allow to dry and then add some fearsome final touches such as google eyes or pipe cleaner.
Play Witch Hat Hoop Toss
Keep the little ones occupied for ages with this fun game that can be played as a group or individually. It's perfect for stimulating hand-eye coordination and will encourage your little ones to focus. You can buy the set here, or create your own at home!
Do you have any go-to activities that keep your children entertained during the holidays? Share your thoughts with us below, we'd love to hear from you! Want to keep up to date with our future blogs like this one? Subscribe to our mailing list for more tips and special offers you surely wouldn't want to miss!
Read more: