Have you been searching for a gentle remedy to protect your baby's face from wind, drizzle, and dribble? Do you often find your child's cheeks chap during the colder months and hate seeing them in discomfort?
Introducing our bestselling Face The Day Stick! A gentle balm made from 99% naturally derived ingredients to help protect your baby's face from the elements and soothe dry & sensitive skin.
Why we created the Face the Day Stick
At Mum & You, creating gentle products with no added nasties is something we're passionate about. We create products that we would find convenient and gentle enough to use on our own children.
When it came to colder months, our little ones often suffered from dry, irritated skin. We, therefore, wanted to create a comforting product that can relieve the likes of dry skin and dribble rash in an easy-to-apply stick.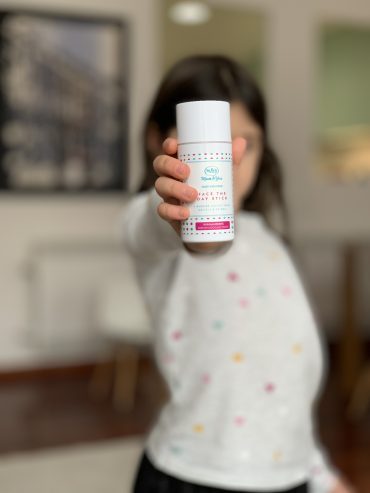 What does it contain?
Our Face the Day Stick contains a comforting combination of sunflower oil, coconut oil, beeswax, and shea butter. The ingredients are 99% naturally derived and the balm is dermatologically tested to ensure peace of mind when using on your tot's delicate skin, even including eczema prone, sensitive skin.
Sunflower oil:
Rich in Vitamin A & E, sunflower oil acts as a natural moisturiser, helping to treat dry & sensitive skin.
Coconut oil:
Helps to create a caring, hydrating layer when applied to the skin.
Beeswax:
Heals and softens the skin, and has an antibacterial action, helping to prevent infection.
Shea butter:
Ideal for softening and soothing the skin, shea butter also has anti-inflammatory and healing properties.
Is it suitable for even eczema-prone skin?
It absolutely is, and mums love it! Our Face the Day Stick is clinically proven to be suitable for eczema-prone skin and is kind and safe to even the most sensitive of children.
Why a stick?
Using our product in a stick form makes it super easy to apply on wriggly babies, and toddlers are able to apply it themselves. It's easy enough for them to hold and apply, and independent toddlers love it!
Why is it bestselling?
Our customers love the Face the Day stick and it is rated 5/5 for quality on Trip Advisor. It's racked up 177 fantastic reviews online – why don't you have a read for yourself!
Testimonials
"A really clever product, my son's rash has disappeared." – E Taylor
"I would buy this again for sure." – Abby
"Amazing stuff, has saved my daughter's skin around her nose and mouth in the two weeks she was suffering with teething and a awful cold. Well worth the money!" – Jade
"Children love product after not liking the smell and texture of Vaseline." – Sandra Bowden
Be sure to let us know what you think and leave us a comment below if you've tried and tested our stick!
Shop our range on Mum & You here.