This week is National Eczema week.
According to the World Health Organization, more that 230 million people globally have atopic eczema.
We at Mum & You understand that eczema can be difficult to soothe and manage with a little one who doesn't necessarily understand why they are feeling so uncomfortable. Below we have included a list of resources including helplines, social media accounts and products that are kind to sensitive skin that we hope will ease the pain of eczema – for you, and for your baby.
What is atopic eczema?
According to the Skin Support Organization "Atopic eczema is a very common skin condition due to skin inflammation. It may start at any age, but the onset is often in childhood. 1 in every 5 children in the UK is affected by eczema at some stage. It may also start later in life in people who did not have AE as a child.
The term 'atopic' is used to describe a group of conditions, which include asthma, eczema and hay-fever and food allergy. These conditions are all linked by an increased activity of the allergy side of the body's immune system. 'Eczema' is a term which comes from the Greek word 'to boil' and is used to describe red, dry, itchy skin which can sometimes become weeping, blistered, crusted, scaling and thickened."
Eczema can be painful and frustrating for you and your little one, but there are many resources that are aimed at families to support you and remind you that you're not the only one!
Helplines, Websites & Support
Registered charity with a free & confidential helpline.
Offers advice on triggers and treatments as well as local eczema support groups.
Registered charity based in Scotland but provides support all over the UK.
Free membership which offers one to one support and a closed Facebook group
FAQ's and shares stories of having children with eczema.
Social Media Support Accounts
@eczemasociety
UK charity for everyone affected by eczema.
@eczemadoc
Eczema information, tips and infographics.
@eczemaoutreachsupport
Charity supporting families and young people with the day-to-day challenges of eczema.
Eczema Friendly Products & Testaments
Our Face the Day balm helps to protect your baby's face from wind, dribble and drizzle. Sunflower and coconut oils, beeswax & shea butter form a barrier to protect your baby's face from the elements and soothe dry & sensitive skin and comes in a handy, portable stick dispenser.
Clinically Proven to be suitable for Eczema Prone Skin
99% naturally derived ingredients
Dermatologically tested
Suitable for sensitive skin
"A fantastic product that got rid of my baby girl's eczema on her face. Highly recommend." Miriam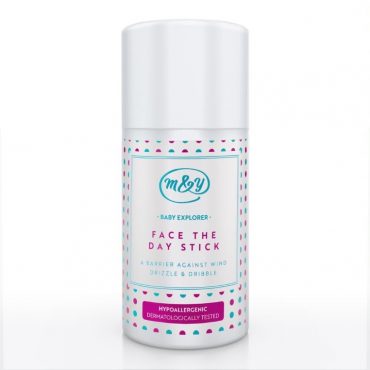 Our plant-based, plastic free wipes contain 99.4% water for ultimate kindness to babies' skin. They are created using sustainably sourced and naturally derived viscose, making them 100% biodegradable. Even the packaging is 100% recyclable! Good for baby, good for the environment.
Kind to sensitive skin and eczema friendly
100% biodegradable* baby wipes with 100% recyclable packaging
Suitable for new-borns
"Great on my son's skin, he has eczema and reacts to a lot to different products/creams etc, these wipes are not scented, they're soft and don't react with his skin." Natalie Curtis
We hope this post has been a useful read for you in awareness of World Eczema Day. Please share any stories, tips or tricks you have found valuable during your journey with eczema and let us know if any of our products have proved themselves useful in the comments below!
Shop our range on the Mum & You website here!