2021 was the year Mum & You turned 4 years old. It was the year in which we received 880 TrustPilot reviews. We released two new products AND a new campaign. We welcomed new employees to the team and we launched in the US!
With 2022 peeking around the corner, we look back at some of the milestones we hit and our achievements this year. We hope that 2022 will be just as exciting for us and for our customers as we continue to strive to innovate sustainable and convenient products for mum, baby, and beyond.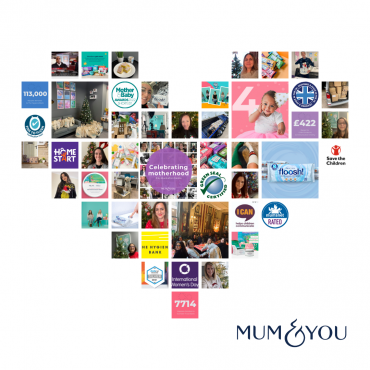 January | £422 raised for I CAN Children's Communication Charity
Our amazing customers donated a total of £422 to I CAN Children's Communication Charity from the 1st of January to March 2021. 211 customers each donated £2 at checkout when completing their online order with Mum & You. Thank you to each and every one of you!
March | Celebrating Motherhood during COVID-19 
In March 2021 we reached out to our incredible community of mums asking for their stories surrounding being a mother during the COVID-19 pandemic. We received an amazing contribution from our community as we came together to celebrate International Women's Day and Mother's Day. 40 stories were shared with us by our amazing mums, employees, and two inspirational sportswomen, Eboni Usoro-Brown and Bianca Williams.
April | Our wipes receive the Green Seal Certification
This year, our biodegradable baby wipes became the first wipes in the UK market to earn the coveted Green Seal Certification. The certification ensures baby wipes meet the strictest of sustainability standards and only the safest, most responsible, and most effective products are able to meet this Green Seal Standard. To say we're proud of this achievement is an understatement!
May | Donations made to Swindon Food Bank & Cambridge Women's Aid
In May, we donated 7714 nappies to Swindon Food Bank as well as 48 packs of wipes to Cambridge Women's Aid.
June | Extended Our Mums Skincare Range
June welcomed a brand new product to our gorgeous mum's skincare range with our breast cream ever! My Breast Friend Restorative Bust Cream made its debut, to soothe stressed and dry skin, lock in moisture, and nourish our delicate breast skin.
July | Launched M&Y site in the USA
July was the month in which we took our products stateside! We launched Mum & You US, offering our popular subscription service to moms across the pond.
August | 113,000 nappies donated to The Hygiene Bank
A whopping 113,000 nappies AND 1758 face & body moisturisers were donated to our partner charity The Hygiene Bank this year. That is A LOT of baby bums!
This huge drop took some careful planning with a lot of people involved at Mum & You, our supply partners and from The Hygiene Bank. We had a lorry and driver on stand-by, a local farmer let us use his land, and a group of amazing volunteers came and packed cars and minivans with boxes ready to distribute to around 20 support groups who needed it most, including food banks, women's refugees, carers, vulnerable assistance network, nurseries, and playgroups.
October | Mum & You turned 4
October was a busy month at Mum & You. During our birthday month, we released our new member's rewards club to recognise our customer's loyalty, we launched our brand new #thisismotherhood campaign AND we won silver in the Dadsnet Product Awards 2021! It was an exhausting month but we felt incredibly fulfilled by the end of it.
November | Our dad & CEO Rajiv interviewed on the BBC
November 2021 saw Mum & You steal a bit of the limelight on daytime television. Our Founder and CEO Rajiv Chandra was interviewed on BBC News with presenter Jane Hill during a segment on wipes pollution and microplastics. The discussions surrounding plastic and wipe pollution have been brought to the public's attention again this year, with MPs campaigning to ban all wet-wipes containing plastic. Rajiv spoke about the importance of making the switch to biodegradable, plastic-free wipes in order to look after our ecosystems.
December | Floosh! Launch, £2,788 raised for The Hygiene Bank & Christmas Donations
As the year comes to a close, we are still tirelessly working around the clock in the final month! This month, we saw the launch of our brand new Floosh! Moist Toilet Tissues. It's been a faced-paced few months leading up to this launch, but we are delighted to be rounding off the year with another convenient and sustainable product for our fantastic customers.
From March until December, the donations made by our customers to The Hygiene Bank reached £2,788, with a phenomenal total amount of £3,210 donated by our customers since January. A total of 1,605 of our customers each donated £2 at checkout to two charities this year and we thank each and every one of you for your generosity. You have all played a part in donating to two fantastic charities and supporting the work that they do.
For our Christmas donations this year, we made a financial donation to Home-Start, a charity that works with families in communities right across the UK. Last year Home-Start supported 56,000 children in 27,000 families, in communities across the UK.
The M&Y team also worked together in the office to pack 48 Mum & You branded canvas bags with a pampering product for mum, including our Get Up & Glow body scrub, our massage oil and eye cream as well as our children's hair & body wash, a toy and a book. These gift bags were donated to Cariad Baby Bank just in time for Christmas.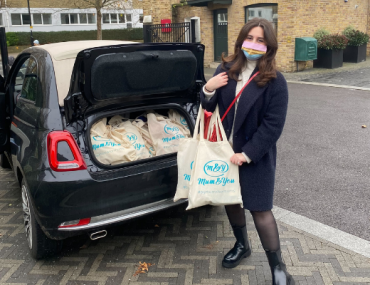 As we draw a close to this year, we are incredibly proud of our achievements, big and small. It has been an incredibly busy year for us at Mum & You, but we wouldn't have it any other way. We must extend a very big thank you to our wonderful customers, because without you – there would be no us! You make us feel fuzzy and warm inside.
Now we raise a glass (of something strong) as we welcome in the year twenty twenty two!
Want to keep up to date with our future blogs like this one? Subscribe to our mailing list for more tips and special offers you surely won't want to miss!